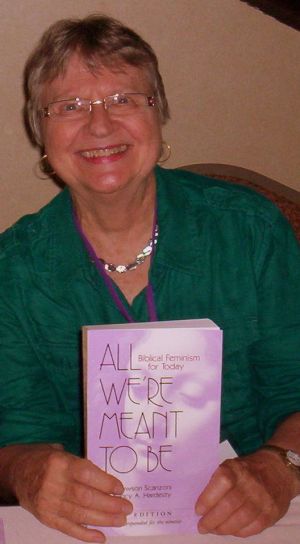 Letha Dawson Scanzoni is an independent scholar, writer, editor, and writing consultant, specializing in the intersection between religion and social issues.
She has written and lectured on such topics as feminism, relationships of love and friendship, self-esteem and personal growth, human diversity, marriage and family living, divorce, aging and caregiving, sexuality and gender, sex ethics, social justice-oriented folk music, and physical and psychological family violence.
Letha is the author or coauthor of nine books, and for 19 years served as editor of Christian Feminism Today (formerly titled EEWC Update) in both its print and website forms. In 2012, the print edition ended and was moved entirely to our redesigned and expanded website, EEWC-Christian Feminism Today. Letha's title was changed to Web Content Manager, working alongside Marg Herder, Web Developer. Letha retired from her position at the end of December, 2013.
In addition to her editing and article writing for EEWC-CFT, Letha wrote the annotated "Link of the Day" feature, which replaced her former column called, "Web Explorations for Christian Feminists" on the EEWC-CFT website.  From July 2008 through November 2011, she coauthored the 72-27 blog, subtitled,"a cross-generational dialogue between two Christian feminists," with Kimberly B. George.  She later coauthored, with Melanie Springer Mock  and Kendra Weddle Irons, another blog called FemFaith—"an intergenerational conversation among three Christian feminists."
Letha's books have been published by HarperCollins, McGraw-Hill, Bantam, Abingdon, Eerdmans, and Westminster John Knox, among others, and her articles have appeared in publications ranging from Medical Aspects of Human Sexuality, the Utne Reader, and SIECUS Report, to The Other Side, the Christian Century, Christianity Today, and Sojourners. She has also written chapters for various edited volumes. most recently, "Why We Need Evangelical Feminists," in New Feminist Christianity: Many Voices, Many Views by Mary E. Hunt and Diann L. Neu, editors (Skylight Paths Publishing, 2010).
Letha's most recent book is What God Has Joined Together: The Christian Case for Gay Marriage (Harper Collins, HarperOne imprint, 2005, 2006), coauthored with psychologist David G. Myers.  The May 2006 paperback edition has a bonus feature in which the authors interview each other and talk about how they came to the views they expressed in the book. Click here and here to read endorsements from journalists, religious leaders, and others who have read the book.
Other books authored or coauthored by Letha, including All We're Meant to Be: Biblical Feminism for Today; and Is the Homosexual My Neighbor?: A Positive Christian Response) are listed on this website here.